Water Damage Considerations for Commercial Property Owners
8/25/2018 (Permalink)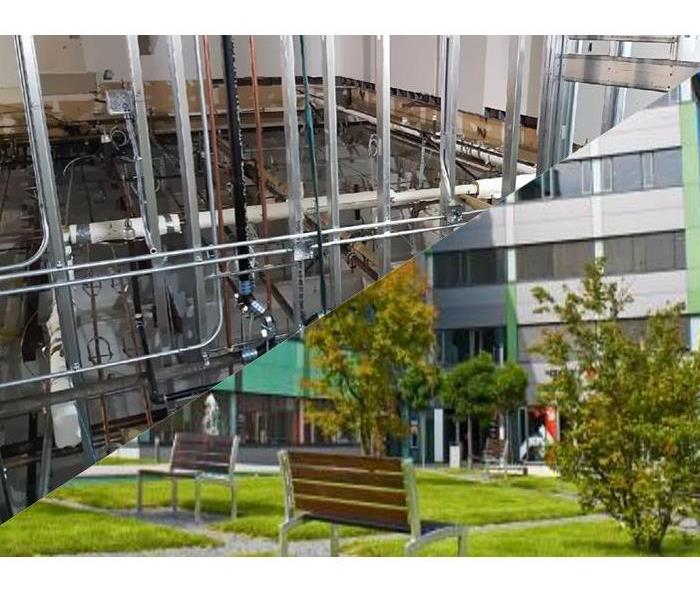 Landscape maintenance and building maintenance. Two sides of a single plan to avoid water damage at your commercial property.
Here are a few water damage considerations for Orange County commercial property owners to consider. From Anaheim to San Clemente, adopt these suggestions to avoid water damage at your commercial property!
Firstly, any water that hits or surrounds your building should have a well-planned route to follow that leads away from the building.
Think of the grounds around your building and the structure itself as a single unit. The crew of people working on the grounds and the folks working on building maintenance should come together as a single team with a holistic view of the property. If anyone on the overall team should notice a water problem, there should be a clearly known communication path.
Roof Leaks
If landscaping is not properly maintained, water from a rainstorm can actually flow clear up to a roofline by following the vegetation around the building. This water can even leak behind the siding and flashing where it can eventually penetrate to the interior walls.
Tree roots can clog underground drain pipes. For example, at SERVPRO of Yorba Linda/ Brea, we've had clients who have experienced major sewage seepage caused by choked sewer lines.
The point is, grounds maintenance personnel can be instrumental in avoiding this type of damage by knowing whom to communicate with and by taking pre-emptive steps to avoid this kind of structural water damage.
Avoiding Damage
Be alert for water flow around the grounds and watch your older trees to see what, if any impact their root systems may be having on the plumbing. If necessary, take the step of removing or replacing larger vegetation if it becomes a threat to the structure.
Regularly communicate with the landscaping team and your building maintenance personnel and stay abreast of all potential water damage causing hazards.
Parking Lots
A well-planned parking lot will lead rain water away from the building and towards properly placed and maintained drains. Drain maintenance is very important. Dirt, leaves and other things that clog the drain pipes can foil even the best planned drainage system. To keep your drains cleared, follow these useful tips:
Routine inspection and maintenance
Watch out for standing water. Water that collects around a drain is a good indicator that you have blockage that needs clearing.
Irrigation Systems
Lawn sprinkler systems can be easily damaged by mower blades or other maintenance equipment. Sprinkler systems with broken heads can create flooding, especially since a lot of these systems are timed to work at night when no one is around to notice faulty operation. Standing water in isolated places around the lawn or other places is a red flag that you may have this problem.
Corrective Actions
Regularly inspect the irrigation system by walking the property and looking for broken heads or standing water.
Manually run the irrigation system and watch out for 'geysers' that stem from broken water pipes.
Make needed repairs on a timely basis.
Time to Re-think Your Property's Landscaping?
Many properties in Southern California were planned in times when water was not as scarce as it is becoming in this era of climate change. Older landscaping plans require significant amounts of water. Reducing your watering requirements is also a good way to reduce the risk of water damage to your structure(s). Newer landscaping plans reflect the fact that Southern California is a desert and property owners are installing more desert-scape and even decorative hardscape around their property.
Even with the best planning efforts, accidents and disasters still happen. When the threat of water damage becomes an actual problem, it's important to have a partner you can rely on. SERVPRO of Yorba Linda/ Brea has been helping commercial and residential customers with water damage restoration for over eleven years. Over that time, we've become the #1 SERVPRO franchise in California. Commitment to our core values – integrity, knowledge, sense of urgency, consistency, and cleanliness – have helped us achieve this position that we do not take for granted.
You can learn more about what our clients have said about our work at http://www.SERVPROyorbalindabrea.com/testimonials
Need immediate assistance? Call us at 714-701-0207.
We'll make you feel "Like it never even happened"!